[12th SEHATI's COMPETITION]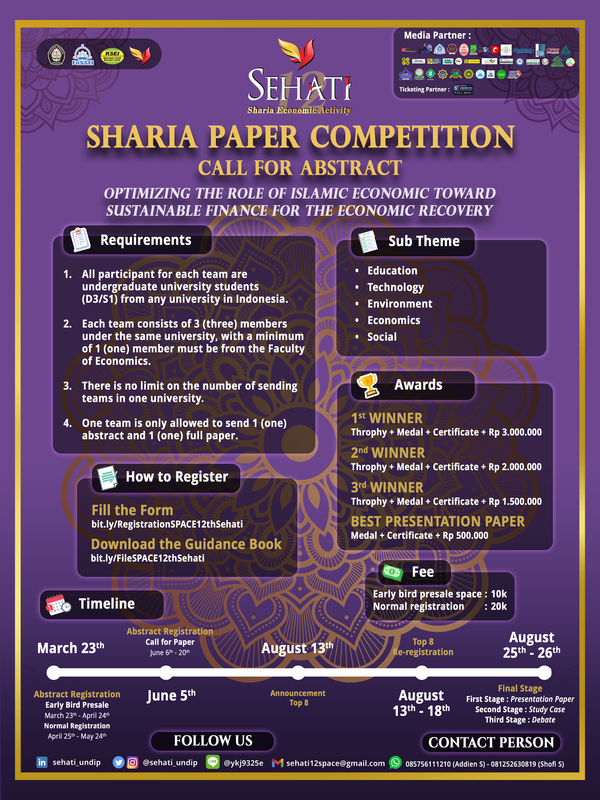 Assalamu'alaikum, rabbani economists!
𝗬𝗼𝘂𝗿 𝘄𝗮𝗶𝘁 𝗶𝘀 𝗳𝗶𝗻𝗮𝗹𝗹𝘆 𝗼𝘃𝗲𝗿 𝗯𝗲𝗰𝗮𝘂𝘀𝗲 𝘁𝗵𝗲 𝗰𝗵𝗮𝗹𝗹𝗮𝗻𝗴𝗲𝘀 𝗶𝘀 𝗰𝗼𝗺𝗶𝗻𝗴 𝗼𝘃𝗲𝗿!
𝟏𝟐𝐭𝐡 𝐒𝐄𝐇𝐀𝐓𝐈 𝐩𝐫𝐨𝐮𝐝𝐥𝐲 𝐩𝐫𝐞𝐬𝐞𝐧𝐭𝐬 :
𝐒𝐇𝐀𝐑𝐈𝐀 𝐏𝐀𝐏𝐄𝐑 𝐂𝐎𝐌𝐏𝐄𝐓𝐈𝐓𝐈𝐎𝐍
With Our Grand Theme :
"Optimizing The Role of Islamic Economic Toward Sustainable Finance for The Economic Recovery"
𝙄𝙢𝙥𝙤𝙧𝙩𝙖𝙣𝙩 𝘿𝙖𝙩𝙚𝙨
Abstract Registration March 23th – May 24th, 2022
Abstract Announcement June 5th, 2022
Call for Paper  and Abstract Re-registration Payment June 6th – 20th 2022
Announcement of 8 Best Teams August 13th, 2022
Paper Re-registration and Payment August 13th – 18th 2022
Final Stage August 25th – 26th 2022
For 𝙧𝙚𝙜𝙞𝙨𝙩𝙧𝙖𝙩𝙞𝙤𝙣, you can fill out the form at :
bit.ly/RegistrationSPACE12thSehati
You can download and read the 𝙜𝙪𝙞𝙙𝙖𝙣𝙘𝙚 𝙗𝙤𝙤𝙠 at :
bit.ly/FileSPACE12thSehati
Contact Person :
0857-5611-1210 (Addien)
0812-5263-0819 (Shofi)
Stay tuned to our official account for the latest information.
For further information :
Instagram : @sehati_undip
Twitter : @sehati_undip
Line : @ykj9325e
#12thSEHATI
#SEHATI12
#KSEIFEBUNDIP
#GetReadytoChange
#ShariaPaperCompetition
#CallforAbstract
#LKTI